TOWN OF PERRY
10084 County Highway A
Mount Horeb, WI  53572
Located in the southwest corner of Dane County, the Town of Perry is thirty-six square
miles of gently rolling hills with abundant wildlife and rural beauty.  (map)
Named in honor of Admiral Oliver Hazard Perry,
Naval Commander in the War of 1812
Population 735 (2019)
Town Of Perry Updates:
---
Public Health Madison & Dane County Releases New Orders
Requiring Face Coverings
Today, Public Health Madison & Dane County released Order #8, which goes into effect on July 13, 2020, at 8:00 am.  See our news release for more information.
Per the order, people five years of age and older must wear a face covering that covers their nose and mouth when in public, which includes in businesses, health care settings, waiting in line,
and on public transportation.
Exceptions are made for certain activities such as eating at a restaurant, but during those activities, 6 feet distancing is required at all times. Some people are also exempted if they have a physical, mental, or developmental condition that prevents them from wearing a mask.
The Alliant Energy Center community test site has been extended
and will be open until 

August 31

. 
---

Notice of Election
Town of Perry
August 11, 2020
Notice is hereby given of a General Election to be held in the Town of Perry on Tuesday, August 11, 2020. Polls will be open at the Perry Town Hall, 10084 CTH A, from 7:00 AM to 8:00 PM.
The Polling Place might be relocated per the Town's Polling Place Contingency Plan* – to the Town Garage, 1386 State Road 78.  A Relocation Notice will be posted at the Town Hall and at the Town's posting sites.
The Town of Perry Declaration of Emergency was ratified on July 14, 2020.  All Town meetings and activities will preserve social distancing of 6 feet between attendees and will follow all other public health recommendations issued by Public Health of Madison and Dane Co., WI Dept. of Health Services and Centers for Disease Control.
*approved by Town Board – October 15, 2008.
Mary L. Price, Clerk
---
VOTING BY ABSENTEE BALLOT
August 11, 2020, Partisan Primary Election
Town of Perry 
Any qualified elector who is unable or unwilling to appear at the polling place on Tuesday, August 11, 2020, for the Partisan Primary Election may request to vote an absentee ballot.  A qualified elector is any U.S. Citizen, who will be 18 years of age or older on election day, and who has resided in the ward or municipality where he or she wishes to vote for at least 10 consecutive days before the election.  The elector must also be registered in order to receive an absentee ballot.
TO REQUEST AN ABSENTEE BALLOT, PLEASE CONTACT YOUR MUNICIPAL CLERK.
You must submit your request in writing, by email, letter, or filling out the request form.  Your written request must list your name, voting address within the municipality where you wish to vote, the address where the absentee ballot should be sent, if different, and the date of the election(s) you are requesting your ballot for.  YOU MUST ALSO PROVIDE YOUR PHOTO ID.
Special absentee voting application provisions apply to electors who are indefinitely confined to home or a care facility, in the military, hospitalized, or serving as a sequestered juror.  If this applies to you, contact the municipal clerk.
You can also personally go to the clerk's office to vote an absentee ballot.  YOU MUST PROVIDE YOUR PHOTO ID TO RECEIVE AN ABSENTEE BALLOT.
You may also request an absentee ballot online by going to MyVote.wi.gov.
THE DEADLINE FOR MAKING APPLICATION TO VOTE ABSENTEE BY MAIL IS 5:00 P.M., ON THE THURSDAY BEFORE THE ELECTION, AUGUST 6, 2020.
IN-PERSON ABSENTEE VOTING ENDS AT 5 PM FRIDAY, AUGUST 7, 2020.
ALL VOTED BALLOTS MUST BE RETURNED TO THE MUNICIPAL CLERK SO THE CLERK CAN DELIVER THEM TO THE PROPER POLLING PLACE BEFORE THE POLLS CLOSE ON AUGUST 11, 2020 THE DAY OF THE ELECTION.  BALLOTS WILL NOT BE COUNTED IF THEY ARE RECEIVED AFTER 8:00 PM ON ELECTION DAY.
To obtain an absentee ballot send a written request to:
Town of Perry
Mary Price, Clerk
1004 State Hwy 78
Mount Horeb, WI  53572
Absentee Voting by Appointment
Tel: 437-4553
mlprice@mhtc.net
---
Notice of Town of Perry – Open Book
Monday, August 17, 2020
5:00 PM – 7:00 PM
          Notice is hereby given that on Monday, August 17, 2020, the Town of Perry will hold the Open Book session beginning at 5:00 PM and ending at 7:00 PM.
Accurate Appraisal, LLC, the Town's assessment contractor, will conduct Open Book discussions to assist taxpayers in understanding their assessments. The 2020 valuation discussions will be conducted by telephone appointments to maintain social distancing and to ensure safety.
Online appointment scheduling is available.  To set up an Open Book telephone appointment, please log on to ww.accurateassessor.com and click the online APPOINTMENTS link on top of the screen; choose (Perry); choose your Telephone Open Book date and time; and enter your personal information, including the phone number you wish to be called.  An assessor will telephone within 15 minutes of your scheduled time.  If you do not have Internet access, please call Accurate Appraisal at 1-800-770-3927 to schedule a telephone discussion.
Mary L. Price, Clerk
---
Town of Perry
Declaration of Emergency
renewed and extended through October 14, 2020
---
Town of Perry Notice
Recycling Center
Additional Opening Hours – 2020
1st and 3rd Tuesdays of each month
6:00 PM – 8:00 PM
beginning Tuesday, May 5 and ending Tuesday, September 1, 2020
---
Article on Town of Perry's court case as ruled by the Wisconsin Supreme Court
"No Private Cause of Action to Compel Towns to Construct Roads to Meet Wis. Stat. 82.50 Standards"
written by Attorney Mark Steichen
Municipal Law Newsletter, March/April 2020, pg 2
---
HERITAGE CIRCLE PAVER PROJECT
~ Opportunity to order a personalized paver ~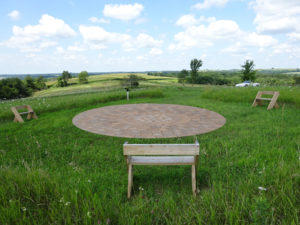 Friends of the Perry Parks are taking orders for personalized, engraved pavers for the Heritage Circle Paver Fundraising Project, to be located in the Town of Perry Hauge Historic District Park.  The Heritage Circle project is open to anyone.  By purchasing a paver, you will join others who have helped support the protection and preservation of the Hauge Log Church Historic site.
For details on the project, order forms and photos, please see:  Heritage Circle Paver Project
---
New VOLUNTEER OPPORTUNITIES ~ 
TOWN OF PERRY PARKS
April 2019
The Friends of the Parks of Perry are looking for volunteers to help with projects in the Town of Perry's parks.
A number of projects have been initiated by the Friends Group and the Perry Parks and Open Space Committee with the approval of the Town Board.  For a complete list, see Volunteer Opportunities 2019.
Please contact Town of Perry Board member Mick Klein Kennedy, Park Supervisor and President of the Friends of the Parks of Perry, for further information on how and when you can help:
Email: mick@wisconsinlandscapes.com Phone: 437-3662
---
 FREE FIREWOOD AVAILABLE
Firewood available from the trees that were cut
down at the Hauge Historic District Park.
Please contact Mick Klein Kennedy
for the availability and location of the wood.
Mick Klein Kennedy    cell: 608-843-3297
---