TOWN OF PERRY
10084 County Highway A
Mount Horeb, WI  53572
Located in the southwest corner of Dane County, the Town of Perry is thirty-six square
miles of gently rolling hills with abundant wildlife and rural beauty.  (map)
Named in honor of Admiral Oliver Hazard Perry,
Naval Commander in the War of 1812
Population 737 (2018)
Town Of Perry Updates:
---
Public Notice
Town of Perry Tire Collection Day
  The Town of Perry will hold two tire collection days:
Saturday, November 2 and Saturday, November 9, 2019 
Tires will be accepted from 8:00 AM until noon at the Town Recycling Center, 10832 CTH A, Daleyville.
Fees will be charged as follows:
Car Tire                                        $3.00    with rims – $5.00
Small truck/implement tire       $4.00   with rims – $6.00
Large truck tire                          $13.00
Small tractor tire                        $25.00
Large tractor tire                        $30.00
Residents are encouraged to participate in this semi-annual opportunity to dispose of tires properly and to contribute to the Town of Perry's recycling efforts.
---
HERITAGE CIRCLE PAVER PROJECT
~ Opportunity to order a personalized paver ~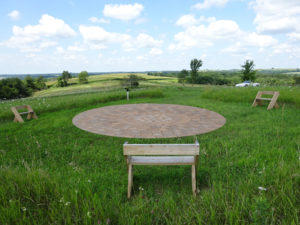 Friends of the Perry Parks are taking orders for personalized, engraved pavers for the Heritage Circle Paver Fundraising Project, to be located in the Town of Perry Hauge Historic District Park.  The Heritage Circle project is open to anyone.  By purchasing a paver, you will join others who have helped support the protection and preservation of the Hauge Log Church Historic site.
For details on the project, order forms and photos, please see:  Heritage Circle Paver Project
---
2020 CENSUS:  ADDRESS CANVASSING
The U.S. Census Bureau has begun address canvassing, the first major field operation of the 2020 Census.  Address canvassing improves and refines the Census Bureau's address list of households nationwide, which is necessary to deliver invitations to respond to the census.
The U.S. Census staff has "address canvassers" out in the field checking addresses for accuracy and completeness.  They are doing a sample – not every house.  Census staff should have identification if people ask.  They also wear a Census badge and carry a Census laptop or tablet.
If interested in more information, these links have been provided:
---
OCTOBER IS CYBERSECURITY MONTH IN WISCONSIN
The internet has made everything from paying bills to staying in touch with family easier.  It has also opened many new ways for criminals to target sensitive personal and financial information, making it essential that everyone learn how to protect themselves.  To encourage everyone to learn more about their digital risk, Gov. Tony Evers has declared October Cybersecurity Awareness Month in Wisconsin.
Understanding your digital profile and how it can be accessed is key to learning how to protect it.  Cell phones, computers, and other smart devices in your home can all serve as potential access points for digital thieves.  Users should keep track of where their personal information has been entered on physical devices, along with what online accounts they have created and what information is publicly viewable through them.
Find more tips on protecting yourself from cyber crimes at https://readywisconsin.wi.gov/cyber/
---
Dane County Zoning Ordinance
The Town of Perry Board signed the Resolution to Adopt the Comprehensively Revised Dane County Zoning Ordinance on May 14, 2019.
A certified copy of Resolution 2019-01 was filed with the Dane County Clerk on May 15, 2019.
Information on the new zoning ordinance
CURRENT zoning district fact sheets
NEW zoning district fact sheets
Dane County also has an interactive mapping tool that shows both the current and proposed zoning for any parcel in Dane County:  enter your property address in the upper right magnifying glass, or zoom to the desired location.  Clicking on any parcel allows you to see detailed parcel information, as well as the proposed zoning district fact sheets.  You can also switch to the aerial mode by clicking on the base map icon in the lower right corner.
If you have any questions, please contact Dane County Planning and Development at (608) 267-4115.
---
New VOLUNTEER OPPORTUNITIES ~ 
TOWN OF PERRY PARKS
April 2019
The Friends of the Parks of Perry are looking for volunteers to help with projects in the Town of Perry's parks.
A number of projects have been initiated by the Friends Group and the Perry Parks and Open Space Committee with the approval of the Town Board.  For a complete list, see Volunteer Opportunities 2019.
Please contact Town of Perry Board member Mick Klein Kennedy, Park Supervisor and President of the Friends of the Parks of Perry, for further information on how and when you can help:
Email: mick@wisconsinlandscapes.com Phone: 437-3662
---
 FREE FIREWOOD AVAILABLE
Firewood available from the trees that were cut
down at the Hauge Historic District Park.
Please contact Royce Nelson or Mick Klein Kennedy
for the availability and location of the wood.
Royce Nelson               cell: 608-444-6242
Mick Klein Kennedy    cell: 608-843-3297
---