TOWN OF PERRY
10084 County Highway A
Mount Horeb, WI  53572
Located in the southwest corner of Dane County, the Town of Perry is thirty-six square
miles of gently rolling hills with abundant wildlife and rural beauty.  (map)
Named in honor of Admiral Oliver Hazard Perry,
Naval Commander in the War of 1812
Population 737 (2017)
Town Of Perry Updates:
---

Partisan Primary 
August 14, 2018
Town of Perry Election Results
*Due to its length, the poll tape needed to be scanned into the following intervals:
Section 1 of 5 (through Kleefisch)
Section 2 of 5 (through Helbach)
Section 3 of 5 (through Kaul)
Section 4 of 5 (through Pope)
Section 5 of 5 (through Baird)
---
Notice of Town of Perry
Board of Review
Perry Town Hall
10084 County A
Monday, August 20, 2018
7:00 PM – 9:00 PM
---
Town of Perry – Dane County Zoning Ordinance Information
POSTCARDS
Dane County is in the process of making a first-ever revision to their Chapter 10 Zoning Ordinance.  Postcards are being mailed to landowners in the Town of Perry notifying them of the proposed change in zoning on their property.
The proposed changes to the zoning categories will not affect the current uses of your property nor should it affect your property taxes.  However, the new zoning code will need to be adopted by each town.
There will be a Special Meeting of Landowners at the Perry Town Hall on June 14 at 7:30pm.  Dane County Senior Planner, Brian Standing, will be giving a presentation on the new ordinance and will be available to answer any questions.
Information on the new zoning ordinance
CURRENT zoning district fact sheets
PROPOSED zoning district fact sheets
Dane County also has an interactive mapping tool that shows both the current and proposed zoning for any parcel in Dane county:  enter your property address in the upper right magnifying glass, or zoom to the desired location.  Clicking on any parcel allows you to see detailed parcel information, as well as the proposed zoning district fact sheets.  You can also switch to aerial mode by clicking on the basemap icon in the lower right corner.
If you have any questions, please contact Dane County Planning and Development at (608)267-4115 or attend the Town of Perry public information meeting on June 14.
---
Recycling Center
Additional Opening Hours – 2018
1st and 3rd Tuesdays of each month
6:00 PM – 8:00 PM
 beginning Tuesday, May 1 and ending Tuesday, September 4, 2018
---
Are You Recycling Right?
The Do's and Don'ts of Recycling
When non-recyclable items (contamination) end up in your recycling, they have the potential to turn the entire load into trash, resulting in contamination and additional processing and disposal costs.
Here are some tools for success –
RECYCLING DO's
DO recycle all empty plastic bottles, cans, paper and cardboard.
DO keep foods and liquids out of recycling.
DO keep plastic bags out of recycling.
*Plastic grocery bags can be recycled at retailers such as Miller and Sons Supermarket and Pick-n-Save.  For a list of other locations, click here.
RECYCLING DON'TS
DON'T bag your recyclables – plastic bags and film get tangled in the machinery.
DON'T include food-soiled items – they can turn an entire load of recycling into trash.
DON'T add sharp or dangerous materials like needles and electronics – they can cause injury to our workers.
DON'T toss in "tanglers" like rubber hoses and wires – they can shut down an entire recycling center!
DON'T include bulky items like propane tanks or construction debris.
For more tools to help your team follow the do's and don'ts of recycling,  visit www.RecycleOftenRecycleRight.com.
---
"The Little Free Pantry"
The Little Free Pantry is now available to provide nonperishable food and other necessities in the Mount Horeb Area. The two outdoor Pantries are available 24 hours a day and can be found at New Hope Evangelical Free Church in the lawn north of the building, and at Immanuel Lutheran Church around back of the building near the door.
For more information, please see The Little Free Pantry flyer.
---
NOTICE TO CONTROL NOXIOUS WEEDS
NOTICE IS HEREBY GIVEN to each person who owns, occupies or controls land in:
VILLAGE OF MOUNT HOREB
VILLAGE OF BLUE MOUNDS
TOWN OF SPRINGDALE
TOWN OF PERRY
TOWN OF PRIMROSE
TOWN OF BLUE MOUNDS
To destroy all noxious weed on such property before plants bloom. The noxious weeds are: Canada Thistle, Leafy Spurge, Field Bindweed (commonly known as Creeping Jenny) and any other weed the governing body of the municipality has declared to be noxious.
Noxious weeds shall be controlled at such time and in such manner as will effectively prevent them from maturing to the bloom or flower stage as required by Section 66.0407 of the Wisconsin Statutes.
---
Town of Perry Hauge Historic District Park
receives special recognition of local historic preservation
from the Dane County Historical Society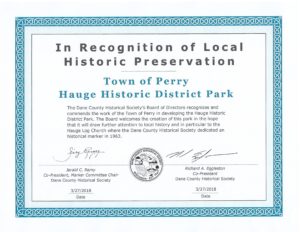 Dane County Historical Society Award
---
VOLUNTEER OPPORTUNITIES
TOWN OF PERRY PARKS
March 2018
The Friends of the Parks of Perry are looking for volunteers to help with projects in the Town of Perry's parks.
A number of projects have been initiated by the Friends Group and the Perry Parks and Open Space Committee with the approval of the Town Board.  For a complete list, see Volunteer Opportunites.
Please contact Town of Perry Board member Mick Klein Kennedy, Park Supervisor and President of the Friends of the Parks of Perry, for further information on how and when you can help:
Email: mick@wisconsinlandscapes.com Phone: 437-3662
---
 FREE FIREWOOD AVAILABLE
Firewood available from the trees that were cut
down at the Hauge Historic District Park.
Please contact Royce Nelson or Mick Klein Kennedy
for the availability and location of the wood.
Royce Nelson               cell: 608-444-6242
Mick Klein Kennedy    cell: 608-843-3297
---