TOWN OF PERRY
10084 County Highway A
Mount Horeb, WI  53572
Located in the southwest corner of Dane County, the Town of Perry is thirty-six square
miles of gently rolling hills with abundant wildlife and rural beauty.  (map)
Named in honor of Admiral Oliver Hazard Perry,
Naval Commander in the War of 1812
Population 735 (2019)
Town Of Perry Updates:
---
Dane County Issues New Order Limiting Gatherings, Bar and Restaurant Activity
Effective at 8:00 am on July 2, 2020, Public Health Madison & Dane County is issuing
order #7 PDF, which limits gatherings and prohibits indoor dining and service at bars.

The Alliant Energy Center community test site has been extended
and will be open until 

August 31

. 
---
Perry Center Road Bridge Replacement
Construction work to replace the Perry Center Road Bridge between 379 Perry Center Road and 452 Perry Center Road will begin Monday, June 29, 2020 and is expected to be completed by Friday, July 10, 2020.
---
Town of Perry Notice
Recycling Center
Additional Opening Hours – 2020
1st and 3rd Tuesdays of each month
6:00 PM – 8:00 PM
beginning Tuesday, May 5 and ending Tuesday, September 1, 2020
---
Article on Town of Perry's court case as ruled by the Wisconsin Supreme Court
"No Private Cause of Action to Compel Towns to Construct Roads to Meet Wis. Stat. 82.50 Standards"
written by Attorney Mark Steichen
Municipal Law Newsletter, March/April 2020, pg 2
---
HERITAGE CIRCLE PAVER PROJECT
~ Opportunity to order a personalized paver ~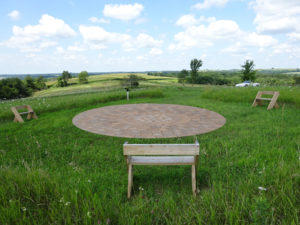 Friends of the Perry Parks are taking orders for personalized, engraved pavers for the Heritage Circle Paver Fundraising Project, to be located in the Town of Perry Hauge Historic District Park.  The Heritage Circle project is open to anyone.  By purchasing a paver, you will join others who have helped support the protection and preservation of the Hauge Log Church Historic site.
For details on the project, order forms and photos, please see:  Heritage Circle Paver Project
---
UNITED STATES CENSUS
APRIL 1, 2020
The count is mandated by the Constitution and conducted by the U.S. Census Bureau, a nonpartisan government agency.  It's in the Constitution: Article 1, Section 2, mandates that the country conduct a count of its population once every 10 years. The 2020 Census will mark the 24th time that the country has counted its population since 1790.
The census provides critical data that lawmakers, business owners, teachers, and many others use to provide daily services, products, and support for you and your community – for health clinics, fire departments, schools, roads, and highways.
By April 1, 2020, every home will receive an invitation to participate in the 2020 Census. You will have three options for responding:
Online.
By phone.
By mail.
For information on what questions will be asked, who is to be counted, and why your answers matter, visit:  https://2020census.gov/en.html
---
New VOLUNTEER OPPORTUNITIES ~ 
TOWN OF PERRY PARKS
April 2019
The Friends of the Parks of Perry are looking for volunteers to help with projects in the Town of Perry's parks.
A number of projects have been initiated by the Friends Group and the Perry Parks and Open Space Committee with the approval of the Town Board.  For a complete list, see Volunteer Opportunities 2019.
Please contact Town of Perry Board member Mick Klein Kennedy, Park Supervisor and President of the Friends of the Parks of Perry, for further information on how and when you can help:
Email: mick@wisconsinlandscapes.com Phone: 437-3662
---
 FREE FIREWOOD AVAILABLE
Firewood available from the trees that were cut
down at the Hauge Historic District Park.
Please contact Mick Klein Kennedy
for the availability and location of the wood.
Mick Klein Kennedy    cell: 608-843-3297
---